Delta Futures Lab webinars
On future challenges of Delta regions
Every Friday 12:30 – 13:30 [CET]
---
Upcoming: Friday January 21st
Room-for-the-River, a programmatic approach to a safe and attractive landscape by Dirk Sijmons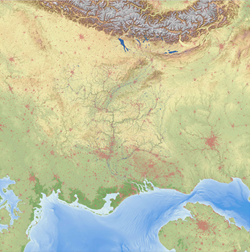 Between 2006 and 2016 a 2.3 billion program was executed to make the Dutch river area safe for expected river high waters. The program introduced a triple trend crack:

it suppressed the standard reaction of raising the dikes and instead in 32 projects in the Delta gave more room to the river;
the program was structured bottom-up with responsibilities for municipalities and water boards;
Spatial and landscape quality was introduced as a second main goal for the program only after water safety.
As one of the few large projects Room-for-the-River was executed within the time frame and the budget. The lecture is about the question of whether this integral approach has to do with the rare goals achievement and public support for the program.
Bio: Dirk Sijmons (1949) is one of the founders of H+N+S Landscape-architects. At the office, he was responsible for regional plans and research projects. In 2002 he received the Rotterdam-Maaskant award and in 2007 the prestigious Edgar Doncker award for his contribution to 'Dutch Culture'. Sijmons was appointed first State Landscape Architect of the Netherlands (2004-2008) and in that capacity chair of the Quality-team Room-for-the-Rivers. He held the chair of Environmental Design (2008-2011) and that of Landscape Architecture (2011-2015) at TU-Delft.
This week, the lecture can be attended by a handful of people. This will take place on the Bouwcampus (building 26). The sign-up form can be found here: https://forms.gle/BxeNotNisgar8XUbA. All others can join via https://tudelft.zoom.us/j/94954981691
---
Lecture series 2021-2022
2022
February 25th      ||  Ellen Minkman
February 18th      ||  Riccardo Riva
February 11th     ||  Niels Welsch                                    
January 28th      ||  Bramka Jafino
January 21st      ||  Dirk Sijmons
January 14th      ||  Lieke Brackel                                    Addressing questions of justice in delta management with the Capability Approach
2021
December 17th  || –
December 10th  || Remko Uijlenhoet  (Matchmaking event Transitional Territories)
December 3rd    ||  –
November 26th  ||  Wenchi Yang and Naomi Herbert      Living with/without water
November 19th  ||  MDP Group Venice                            Venice and the lagoon: Two new visions 
November 12th  ||  Launch student challenge Panorama New Netherlands Led by Henk Nieboer
November 5th    ||  Ferod Islam                                         Flooding to stay afloat

October  29th     ||  Andy van den Dobbelsteen                Surviving the climate crisis by planning and design
October 22nd     ||  Stefan Aarninkhof                              Nature-based solutions along sandy shorelines
October 15th      ||  Saskia van Vuren                                Future challenges in the Meuse: knowledge of the system as a base for a good perspective of action
October 8th        ||  Luca Iuorio                                        The Implicit Project of Infrastructures
October 1st         ||  Mischa Keijser                                   Observations in the flooded areas around Liege, Belgium / August 2021
September 24th  ||  Nanco Dolman                                  How water challenges can shape tomorrow's cities
September 17th  ||  Matthijs Kok                                      Limburg Factfinding
September 10th  ||  Bart van Kessel, Ruben Speelman,      Saltwater Intrusion in the Cai River; Analysing the Problem and its Possible Drivers                                                                               Tycho Kockelkorn & Thomas Wierikx       
---
Previous Webinars
REWATCH THE 2020 / 2021 WEBINARS
2021
June 25th           ||  Joannes Visser           Creating a New Perspective by Integrating Frames Through Design
June 18th           ||  Pablo Arecco             Hydraulic Engineering Infrastructures in Argentina
June 11th           ||  Tatiana Filatova         Computational models of adaptive human behaviour in face of environmental hazards
June 4th             ||  Willem van Deursen  Images tell a story to

May 28th           ||  Umme Kulsum          Supporting Adaptive Delta Management: Systematic Exploration of Community Livelihood Adaptation as Uncertainty
May 21st            ||  Bor van der Scheer    The effect of climate change, a new hydropower dam and irrigation development on salt intrusion in the Gambia estuary
May 7th             ||  Bramka Jafino            Model-based support for inclusive adaptation planning in the Vietnam Mekong Delta
April 30th          ||  Tim van Emmerik        The origin of the Plastic Soup
                          ||  Khoa Thi                     Monitoring of plastics in the Red River Delta, Vietnam
April 23th          ||  Sadie McEvoy             How is Europe Planning for Sea Level Rise?
April 16th          ||  Mikaël Waterdrinker   Flooding in Oaxaca: the Río de los Perros
                          ||  Tecnológico de Monterrey students: Ariadna García Guzmán, Erendira Elizabeth Hilario Hernández, Pamela Tuccella Ramírez & Karla Verónica Cantú González

March 26th        ||  Ronald Waterman      Aquapuncture
March 19th        ||  Cas Goselink, Joost Ziere & Laura de Vries        Riverine Climate Adaptation Strategies for Rhine and IJssel
March 12th        ||  Leon Hermans           Monitoring for adaptive delta management: A multi-actor perspective
March 5th          ||  Bas Borsje                  LIVING DIKES ‐ Realising Resilient and Climate‐Proof Coastal Protection

February 26th    ||  Seleshi Yalew             Distributive Justice and SDGs in Transboundary Rivers: Case of the Nile Basin
February 19th    ||  Chris Zevenbergen    Shifting Time Horizons in Urban Flood Risk Management: Opportunities and Challenges to Increase Resilience
February 12th    ||  Saskia van Vuren       Sneak Preview Programme integrated River Management: System-related issues that need to be solved for sustainable multi-functional use of the Dutch river system in the future

January 29th       ||  Han Meyer                 The Rhine mouth as an estuary
January 22nd      ||  Carlijn Meijers, Charlotte van Strien, Freek Kollaard, Irene van der Veer & Laura de Vries
                                                                 An analysis on the effect of the Northern European Enclosure Dam
January 15th       ||  Robert van Roijen       Building Climate Adaptive, The challenges we are facing in the building industry amid Climate change
2020
December 18th  ||  Erik van Berchum         Rapid flood risk screening model for compound flood events in Beira, Mozambique
December 11th  ||  David Steffelbauer       Monitoring for timely adaptation to sea-level rise: The likelihood of an acceleration based on tide-gauge data
December 4th    ||  Ronald Waterman        Integrated Coast & Delta Zone Development

November 27th  ||  Sjoerd Groeskamp       Northern European Enclosure Dam
November 20th  ||  Frans Klijn                    The development of the Rhine River's flood management: past, current and future issues
November 13th  ||  Fransje Hooimeijer      Interdisciplinary project-based education on urban infrastructure development
November   6th  ||  Philip Minderhoud       Rise and Fall Subsidence existential threat to Mekong delta

October     30th  ||  Ellen Minkman             Exporting the Dutch approach in delta management: opportunities and treats for sustainable impact
October     23rd  ||  Michael van Buuren     Designing the rivers of the dutch delta
October     16th  ||  Hessel Voortman          The curious case of Greenland. A critical view on climate and sea levels
October       9th  ||  Jack Amezs                   Urban projects of The Hague
October       2nd ||  Mark Voorendt             Design methodology Integration of spatial design and engineering
September  25th ||  Joep Storms                 High end sea level rise: russian roulette or planned approach?
September  18th ||  Geert van der Meulen  New Netherlands
September  11th ||  Bas Jonkman                Adaptation to sea level rise: keep calm and adapt
---